Making a Difference, One Cupcake at a Time
With Valentine's Day just a few days away, what better time to "Spotlight" Jen's Sweet Treats. We got to know Jen through her participation in last year's Taste of the Gateway event, of which she will be returning for a second time here in 2019 at our event scheduled for August 15th.
Jen, how did you get started in the baking business?
"I've been interested in baking for a long time. I was fairly young when I took great interest in baking as my father was a baker in the military." Jen proudly displays his large rolling pin in her store window.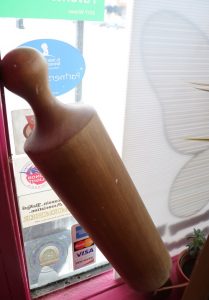 "I decided a few years back to lease a kitchen in Bay View and sell bakery at local farmers markets. I was actually very content to keep doing this, but one day I was going to visit a friend, who lived in Cudahy, and happened to drive past a corner store that had a "For Rent" sign in the window. I turned the car around, looked at the shop, and signed a lease for that store the very next day, and so here I am 5 years later in that same store. "
What brought you to the Milwaukee area?
"I grew up mainly in Illinois but at age 14, my parents moved us to the Wisconsin Dells area. I lived in the Dells until I was 23, then moved to San Antonio, Texas for a while but decided to return to Milwaukee and make this area our home, as I wanted my children to have an opportunity in school. Both my son and daughter help with the business; my daughter assisting with the bakery and my son with our charitable work in the community."
You have quite a unique store. Tell us about some of the things you offer here.
"I have over 80 varieties of cupcakes that I can offer customers and they can even come up with their own flavors, if they wish, for a special occasion.

Some of the flavors include – Almond Joy, Andes Candy, Banana Cream Pie, Black Forest, Chocolate, Chip Cookie Dough, Cherry Coke, French Vanilla, Kit Kat Craze, Peanut Butter Cup, Rainbow Sherbet, Salted Caramel, S'mores, and Tropical Paradise, to name just a few!"
We noticed that each cupcake is carefully decorated. For instance, the pecan pie cupcake has a tiny pecan pie slice on the top, the cream puff cupcake, a cream puff of course. Others have small candy bars or candy slices on top.
In addition to the large selection of both classic and unique cupcakes, Jen also offers a variety of homemade muffins, cookies, turnovers, candy, crunches, custom cakes for special occasions, ham and rolls on Sundays, along with catering for office lunches and other occasions for up to 50 people.
At Jen's Sweet Treats, one corner of the store (known as the Bow Wow Bakery) is dedicated to our four-legged friends, where she offers homemade dog treats and marrow bones.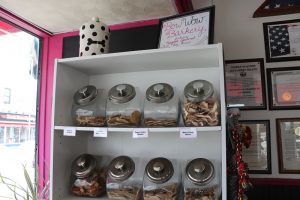 Jen is not just known for her tasty baked goods but also for her charitable giving and fundraising.
This Tuesday, February 12, Jen will be giving 100% of her sales to the family of fallen officer Matthew Rittner.
Other projects Jen is involved in:
Operation Bunny Hop
Jen delivers baskets to children's hospitals around the U. S. Her very first delivery went to St. Jude's Children's Hospital, delivering 87 baskets there at Easter time. Realizing that those baskets would not be enough for all the children, the next year, 550 baskets were made by Jen and her generous volunteers and delivered by Jen's son, who works for Hungry Man Moving.
Jen ships or delivers at least one box of her "Bunny Bags" every week for children's hospitals in the area such as Children's Hospital of Wisconsin and in Madison and to other states. These bags are filled with small toys, coloring books, and crayons. Jen and her daughter will be traveling this spring to Madison, Iowa, Minnesota and Tennessee.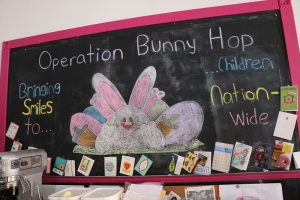 Stars & Stripes Honor Flight
Jen and her family hold a benefit every year for the Stars & Stripes Honor flights and has done so for the past four years, raising over $30,000. Working with the Veterans continues to remain near and dear to her heart because of her father's military service.
Jen mentioned a few other things she has been accomplishing with her mission.
This past Thanksgiving, 2,000 cupcakes were given to first responders in the area.
Jen created an "Angel Tree" this past December, where 17 needy families received Christmas gifts and a meal.
Jen and her family participated in a "Stuff the Truck" holiday fundraiser.
Sent over 1,000 toys to Children's Hospital of Wisconsin
This Easter season, Jen and her volunteers will be delivering baskets to all the homeless shelters in the area.
Recently, we saw in the news that Jen received a pre-owned van through the work of a customer, who had started a Go-Fund-Me page. We asked Jen about that effort. Jen said, "I found it difficult to be on the receiving end and was very humbled by the generosity of others." "I am so glad now that I have a working vehicle, so that I can continue my projects and mission of helping others."
As we looked around the shop, we also noticed just a few of the honors that Jen has received:
Finalist – The Shepard Express Best Neighborhood Bakery
2015 South Shore Chamber – Business of the Year
2017 Milwaukee A-List Best Dessert